BIG LONG POST WITH LOTS OF PICTURES!!
lol, ok, you've been warned! so here we go...

It has been 3 years since we've taken a "real" vacation. Real as in Jaren taking time off work and going somewhere for more than a weekend. Originally we had made plans to go to Morro Bay but got a wild hair last Tuesday for someplace new. We've been wanting to go to San Francisco for as long as I can remember! So I emailed my cousin to ask if we could stay with them and we started making our itinerary :)
Here is Nathan all buckled in and ready to go.
We arrived late Thursday night and woke up Friday morning to head into San Fran. We drove through many tunnels in the bay area!

And many of the bridges have tolls. We paid $4 to cross over the Bay Bridge into San Francisco and $6 to drive over the Golden Gate Bridge. And don't get me started on the parking! We paid $14 to park for 2 hrs. in Chinatown!! ABSURD! LOL.
here's another tunnel...
and here we are driving on the Bay Bridge into San Francisco...
here's our first view of the city through the marine layer...
Downtown San Francisco is VERY NEAT! Very artsy with sculptures. It's kind of hard to tell but this is a lady lying on her side on top of a building. It was huge and very unique.
The parking prices near Chinatown were totally worth it because that was one awesome place!
There public restrooms are pretty cool too. They automatically clean themselves when you leave.
Here Nathan is in Chinatown wearing a "wisdom hat".
Here we are posing ;)
The architecture in San Francisco is also pretty cool. I forgot the name of this building... help me someone....
This is a Wells Fargo Bank
Once again, more statues
I really wanted to stop in this area of shopping. I heard they had a 3-story Old Navy! But there was a marathon happening that weekend sponsored by Nike. There were people EVERYWHERE and promotional tents etc... just too crowded for our flavor.
After Chinatown we headed to the
Golden Gate Park
. We specifically wanted to see the Japanese Tea Garden. Here's Jaren and Nathan out front...
Jaren was obsessed with making pressed pennies everywhere we went!
Jaren thought it would be fun to take Nathan over these narrow stones with big gaps in-between in his stroller. Me... not so fun!
It was a beautiful place to walk around!
Golden Gate Park
is HUGE, around 1,000 acres. Again, more statues...
and great architecture...
This is the De Young Museum where they're having the King Tut exhibit for a few months. Again, not something you see when you think of a park.
FINALLY I caught it on camera! Jaren "taught" Nathan how to make a funny face.
After the park we headed for the Golden Gate Bridge. Took this picture just for you mom-in-law ;)
Big shocker... ANOTHER tunnel!
Driving on the bridge...
Once on the other side we stopped to enjoy the awesomeness of it!
After the bridge, we headed for Lombard St. The "crookedest" street in the United States. Of course we had to drive down it :)
Here's a better picture I snagged offline...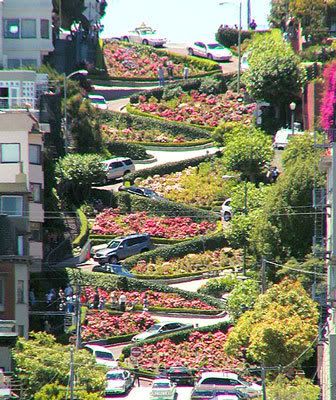 After Lombard St., we headed for Coit Tower.
Survey marker we found up there. Again, one of Jarens obsessions.
The view up there was amazing!
After Coit Tower, we went down to Pier 39 to Fishermans Wharf. We had a DELICIOUS dinner at Bubba Gumps Shrimp. I ordered the shrimpin dippin and Jaren ordered some shrimp sampler that had 4 different types of shrimp.
We had a view of Alcatraz from our table.
Nathan learned how to take his shirt off while we were at the table.
HUGE cargo ship came by during dinner also.
Nathan in Forrests running shoes.
Fishermans Wharf also had a 2 story carousel. We were too full after dinner and weren't really in the mood to spin around in circles.
The giant claw game was tempting though!
We turn a corner of shops and were surprised to see a ton of sea lions! We're talking HUNDREDS! In the winter, they estimate around 900! And this is only half of the docks they were on.
Nathan thought there "barking" was hilarious.
We continued walking/shopping the shops on the wharf.
The sunset view ofthe city was breathtaking.
Saturday morning we weren't sure what our plans were for the day. But Nathan loved swinging in the airplane.
We couldn't decide if we wanted to head up north or south to see more of the area. So we did both. We started out by going to Fairfield and tournig the Jelly Belly Factory.
We all had to wear the hats to keep in code with the California food and health laws.
entering the lobby...
There were many pictures made out of jelly bellys.
After the tour (free may I add), we ate lunch in the cafeteria where all the food was shaped like a jelly belly!
Nathans fries were smiley faces :)
They also had a sample bar where you could try any flavor you wanted.
They have a new thing going on where they're making the same appearance wise jelly belly, but that have 2 different flavors. One being good, the other, not so good. For example... skunk spray = licorice. moldy cheese= caramel corn. black pepper= plum. baby wipes= coconut. pencil shavings= bananas. ear wax= cafe latte. booger= juicy pear. rotten egg= buttered popcorn. toothpaste= berry blue. vomit= peach. There were a group of guys daring each other to eat the funky flavors. One guy ate the rotten egg one and was just gagging!!!! ROFL!
Outside was decorated for Halloween, but of course, couldn't keep Nathan from checking out the hay.
Then we made our way to Tilden Park in Berkeley. Again, not your normal park. Around 2,000 acres of forest with fun things to do. We started on the "scary-go-round". Put Nathan on a mini horse...
and took him off once he started doing this...
We ended up moving to a tea cup that spun in circles as the merry-go-round was going. Nathan and I got SICK!! It took like 30 minutes to regroup our stomachs. The decor was very festive for the season.
Picture out of order, sorry. This is just outside the building where the merry-go-round was...
They even had a skeleton on a horse.
After the merry-go-round we drove to a different part of the park to ride the steam train.
I'm beginning to think San Francisco is OBSESSED with tunnels, LOL.
Another picture out of order, sorry. This was the view coming down the mountain where the park was located. Full aerial view of Oakland and San Francisco.
back to the train...
view on our train ride...
And after the park, we headed for Oakland to see the temple and walk the grounds.
Our last night there we attended my cousins ward harvest party. A member in the ward has land and grows pumpkins for the ward members to pick.
Jaren picked 1 large one for him and a smaller baby one for Nathan.
This kid is 100% boy! Loves all things dirt, bugs, grass and hay! Wouldn't even look up for a picture, he was too obsessed with wanting to get down to play in the mud!
After the party we headed back to my cousins house to play, talk and eat homemade cherry garcia ice cream. It was delish!!
The next morning we stuck around for the homemade biscuits and gravy breakfast. Which Jaren is still raving about and went to the grocery store last night for the ingredients to make his own this weekend! Then we hit the road for an uneventful drive home. After all was said and done... we had a GREAT time! Will DEFINITLY be going back after the holiday season!!
There's just SOOOOOO MUCH MORE we still want to see! Ghiradelli Square, Palace of Fine Arts, Aquarium of the Bay, ride a trolley, tour Alcatraz, see more of Golden Gate Park, the list just keeps growing!